SO I had a engine built and I installed it and never had the power I expected. I regear JK's all the time with the very whimpy 3.8 V6 and when they drive in on a 35" tire and 3.73 (or even 3.21) ratio gears, they have more seat of the pant power and pull. And those are in the 4200lbs and up range at times. I am in a 3800lbs TJ with all kinds of alum parts to save weight.
What I am working with.
1998 TJ with stock (high quality bosch) fuel pump/reg, sensors and harness.
The cam I am working with:
Some more specs:
1.6 roller rockers
62mm BBK throttle body
30lbs inj - ran with both stock pcm, then custom tune (this helped but hard to start when hott)
24lbs 4 hole inj with stock PCM and ran best like this.
2.25" all manderal bent exh, with high flow CA cat and spintech mini muff.
JBA header ceramic coated
griffin race core radiator
flowtech waterpump
flex-a-lite black magic fan.
35" tires
32RH trans w cable adjusted all the way out and shifts nice and at about 2300 no load and up to about 3100 moderate load, etc.
Edelbrock head ported and matched: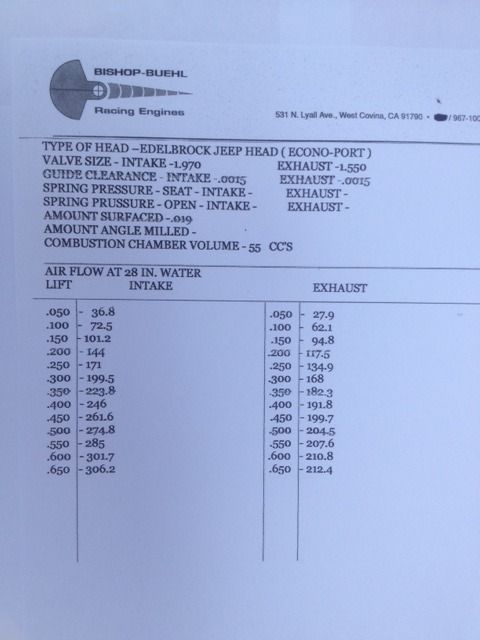 Now my issue. Everything referenced was new not cheap crapola parts(could ahve done a LS swap for the $ now into this). I spent/d $$$ in hopes for a good no issue build.
Day one after break in, never ran very strong.
Figured it was fuel. Had it tuned, helped, not lots. Was in the 14.6-15 A/F range idle cruise and 12.2-12.6A/F WOT.
Found Edel recommends wrong spark plugs on head literature, swapped to correct, helped but not lots.
Adjusted trans cable, helped, not lots.
At this point I went on my first off road trip to Big Bear. Ran hot with the champion 3 row alum rad and mech fan setup. Had very little power at 4000ft elev and up. Going up moderate hills it was in lower gear then hopped and laboring hard to maintain speed. Once it got up to about 225 I would have to turn off AC (wife and 7yo was with me and it was hot out side about 90deg). After a while the heat soak (IAT was reading about 225deg after about an hour on trail), got bad. Tried to turn it off if we were going to sit more than 10 min. It got hard to start with engine kick back. And when idling in gear the oil pressure showed on gauge about 7-10psi. The valve train would make noise and it would not want to run.
Got it home and in the last week have found the following:
*Oil pressure was low due to elect sending unit was hit at some point and the cap had moved over a tad and I think the heat caused resistance to build in a bad connection. Mech gauge showed 60psi cold, 40-42psi hot (20 min of running with elect fan operation as needed), and 38 with hood closed and elct fan off and heat soaked well under hood. So, oil pressure is great.
*Swapped out the champion low $ POS radiator to the very costly and much nicer griffin radiator, and a flex a lite black magic fan setup. On at about 190 and then off 180-185ish.
*swapped out the 30lbs inj with tuned PCM, to the 24lbs and stock PCM.
Drove it. Still very down on power, but started nicer.
A/F went up to the 14.9-15.1 range at cruise and idle, and 13.1-13.4 ish under load/wot.
Freeway at 2800rpm very little load to maintain at 65mph, engine would not run under 220deg. Got off the freeway and it lowered some. No valve noise.
SO...
After I first broke it in and got maybe 200 miles of decent driving on it and some WOT and heat cycles, I checked cranking compression.
Cyl 1-6 were all in the 150-155psi range, with doing one at a time cold and spark plugs in remaining holes with each read. I read and was told to, get up to temp then remove all plugs and then read it. Did that just after the drive above. All were 150,151,152,156,155,160. Now this engine should be in the higher comp range and these still seemed way to low.
Yesterday I pulled front of jeep off and pulled timing cover. Chain was 3/8-1/2" slop/slack. I bought a JP billet set and lots of tools to degree the cam. but for now, I just rotated the timing set that was installed, some true roller single and lower $ set I think, and installed the JP straight up. Put the cover back on and started it with no balancer or belt, radiator etc. Started up and felt smoother. Took compression with all plugs in but the #2 cyl where I took cranking comp and it was 165psi now. Pretty large jump I think?? Put the plug back in and started it again. This time there was valve clicking and got worried and shut it down. Each time it only ran for 20 sec or so. The noise got me very worried.
Now where I am at, at this moment in time and why I am here.
Another almost exactly same build only difference is the head is a 7120 with extensive porting etc, and 1 point less compression, his cranking comp is at 155psi. His XJ runs good at lower and pulls nice and hard at about 2600-3500 if I remember correctly, when I drove it. Same everything else other than head and CC size. Same everything else.
Another friend has a 4.x with a different cam and build but in the higher (comparo to mine) compression and his runs outrageous and his cranking compression is at 195psi and is at 4* adv cam and 4* at timing set (my cam is built in with 4*). How I thought mine would be...
SO here I sit wondering what to do. I have asked engine builder what to do, he says run the cam at 4* adv in the timing set, but the cam already has 4* so that would be 8* total, is this good or no or?? I am looking for most of my power under 4500rpm. Ideally about 1500-3500 strong and tapering from there. My buddy with the strong engine says straight up.
I am getting a set of Harland Sharp 1.7 ratio rockers tomorrow as a option to raise cam #'s. Good idea? Figured it cant hurt but?
And lastly. Anyone here local to orange county, care to make some $ and come degree and finish this up for me? My time is valuable and why I paid to have this done the first time. Now I am having to waste hours and hours trying to figure this out and thats not high on my avail time list.
Errrr....