My stroker is going in soon. It's hanging from the hoist, just finishing a few last things.
Once the summer is over and I'm done fishing I plan to start a custom intake manifold and header to pick up a little more power. The cylinder head I'm running is the eddy head ported by Russ showcased in these 2 threads
https://www.naxja.org/forum/showthread.php?t=1120948
viewtopic.php?t=4899
That thing flows better than some aftermarket SBC heads. Here's the solid cam I'm running from Lunati (they made it just for little ol' me)
We're all very familiar with the older "log style" intake. I want to cut off the "plenum" about where the red line is. It should to me, run a lot like a single plane intake and that's what I'm shooting for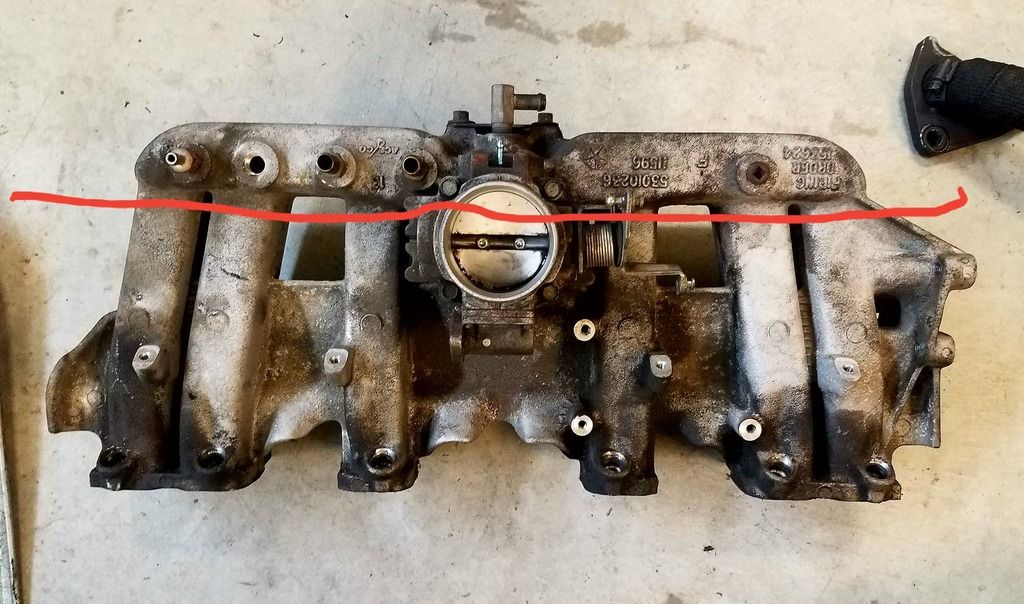 I've done a lot of reading about custom sheet metal intakes. It seems that you want a plenum with the same volume as your engine's displacement. Mine is about 284 CI. It would be fairly easy for me to cut this intake apart, build a square/rectangular plenum that is 284 ish CI and weld it to it. I would cut the TB mount from the old intake and weld it to the new manifold plenum (and port it out to 70mm). Plan is to port the crap out of the runners where they meet the plenum and attempt to make them like velocity stacks. The cylinder head side of the runners/ports would be ported in the same way Russ port matches them.
I would then like to build or have built a custom header with 1.75" primaries based off data from this article
http://www.superchevy.com/how-to/148-04 ... -shootout/
I compare my stroker to a SBC 383 a lot. Each engine has a displacement of about 47 CI. The 383 in that article has 440 hp, which if broken down per cyl is 55 hp per cylinder X 6 = 330 hp (to compare to a Jeep I6 stroker). This is why I believe 1.75" primaries will work well for me. I hope to possibly make 380 HP at least with a custom intake and header.
The high flowing head, big cam, big intake and header should work well together and work in about the same RPM range hopefully. I'm running 33's and 5.13's. At the same time I do this I might change to 5.38's as well. I have a 2800 stall converter
So, what do you guys think??